What are the best E mountain bikes that are the perfect way to explore and enjoy nature while getting an adrenaline rush? These electrically powered bikes offer a variety of benefits that make them stand out from regular mountain bikes, including increased power, better range, and improved traction on steep terrain.
Whether you're looking for an easy ride around town or tackling tough off-road trails with confidence – the best e mountain bike is sure to fit your needs. In this blog post we'll discuss different types of e Mountain Bikes available on the market today, as well as factors to consider when buying one, such as weight capacity and motor type.
We'll also cover some popular brands in addition to accessories needed for optimal performance so you can get rolling right away. So if you're ready for an adventure like no other – let's dive into exploring what makes these powerful machines truly unique: The Best E Mountain Bikes.
Table of Contents
---
Types of e Mountain Bikes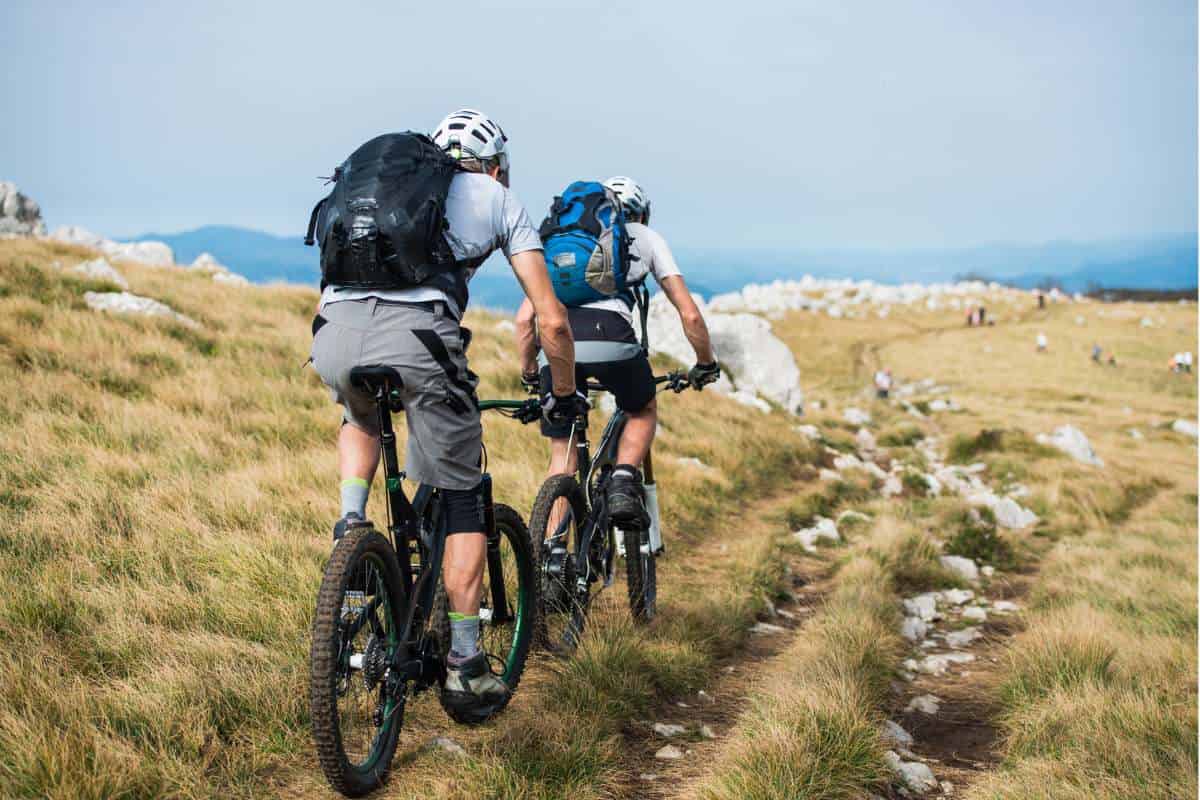 Electric mountain bikes (eMTBs) are becoming increasingly popular for outdoor adventurers. They offer a unique combination of power, speed, and agility that can take your ride to the next level. There are three main types of eMTBs: hardtail, full suspension, and fat tyre models.
Hardtail electric mountain bikes feature a rigid frame with no rear suspension. This makes them lightweight and efficient on flat terrain, but less comfortable over rough trails or jumps.
Hardtails typically have more powerful motors than their full-suspension counterparts, which makes them great for climbing hills or tackling technical sections quickly. However, they don't provide as much cushioning from bumps on the trail, so riders may experience more fatigue after long rides.
Full suspension electric mountain bikes feature both front and rear shocks to absorb impacts from uneven terrain or jumps. The added comfort helps reduce fatigue during longer rides while also providing better control when cornering or descending steep slopes.
Full suspensions generally have slightly weaker motors than hardtails, but still provide plenty of power for most riders' needs.
Fat tyre electric mountain bikes are designed for off-road adventures in sand, snow, mud, and other challenging terrains where traction is key to staying upright and moving forward safely.
These models usually come with wide tyres that provide extra grip on slippery surfaces while also offering some cushioning against bumps in the trail like rocks or roots along the way.
Fat tyre eMTBs tend to be heavier than other types due to their large wheels, but they make up for it by being incredibly stable even at high speeds on difficult trails.
Finally, there are hybrid electric mountain bike models which combine features from all three categories into one versatile machine capable of handling any type of terrain you might encounter outdoors.
Hybrids typically come with mid-sized tyres that offer good grip without too much weight plus adjustable shocks so you can customise your ride depending on what kind of adventure you're embarking upon each time out.
Benefits of e Mountain Bikes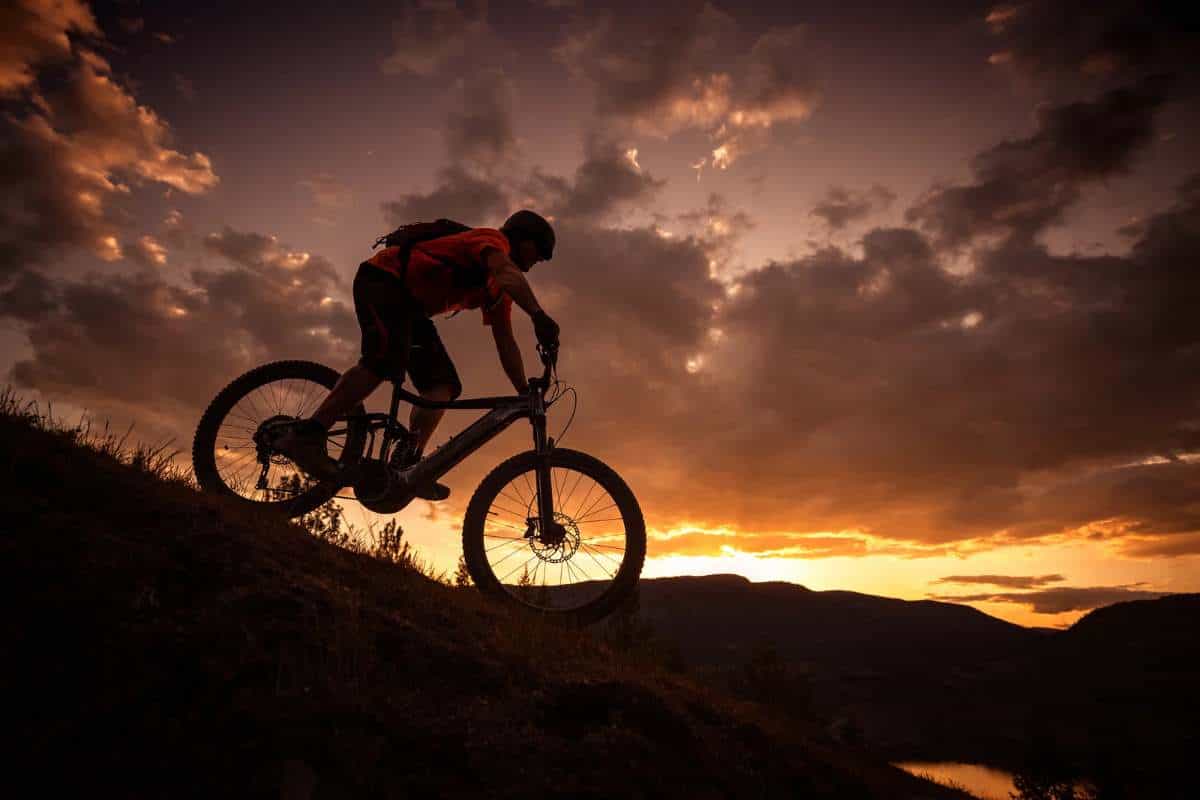 They offer several advantages over traditional mountain bikes that make them an attractive option for those looking to get the most out of their time outdoors. Here are some of the benefits of electric mountain biking:
Increased Speed and Efficiency:
E-MTBs allow riders to cover more ground in less time than they would with a regular bike. This is due to their powerful motors which provide assistance when pedalling up hills and through difficult terrain. This means you can reach your destination faster and enjoy more rides in one day without getting exhausted as quickly.
Improved Comfort and Control:
Electric mountain bikes come with larger tyres that provide better traction on uneven surfaces, allowing you to stay in control even on challenging trails. The motor also helps reduce vibrations from bumps and obstacles, making it easier to keep your balance while riding at higher speeds.
Reduced Fatigue and Injury Risk:
Riding an e-MTB allows you to conserve energy since the motor does much of the work for you when climbing hills or accelerating from a stoplight. This reduces fatigue so you can ride longer distances without feeling as tired afterwards, reducing your risk of injury due to exhaustion or overexertion during long rides.
Overall, electric mountain biking offers many advantages over traditional cycling that make it an ideal choice for outdoor enthusiasts who want to explore further without tiring themselves out too quickly.
With increased speed and efficiency, improved comfort and control, as well as reduced fatigue and injury risk – there's no doubt that e-MTBs will continue gaining popularity among adventure seekers everywhere.
Factors to Consider When Buying an e Mountain Bike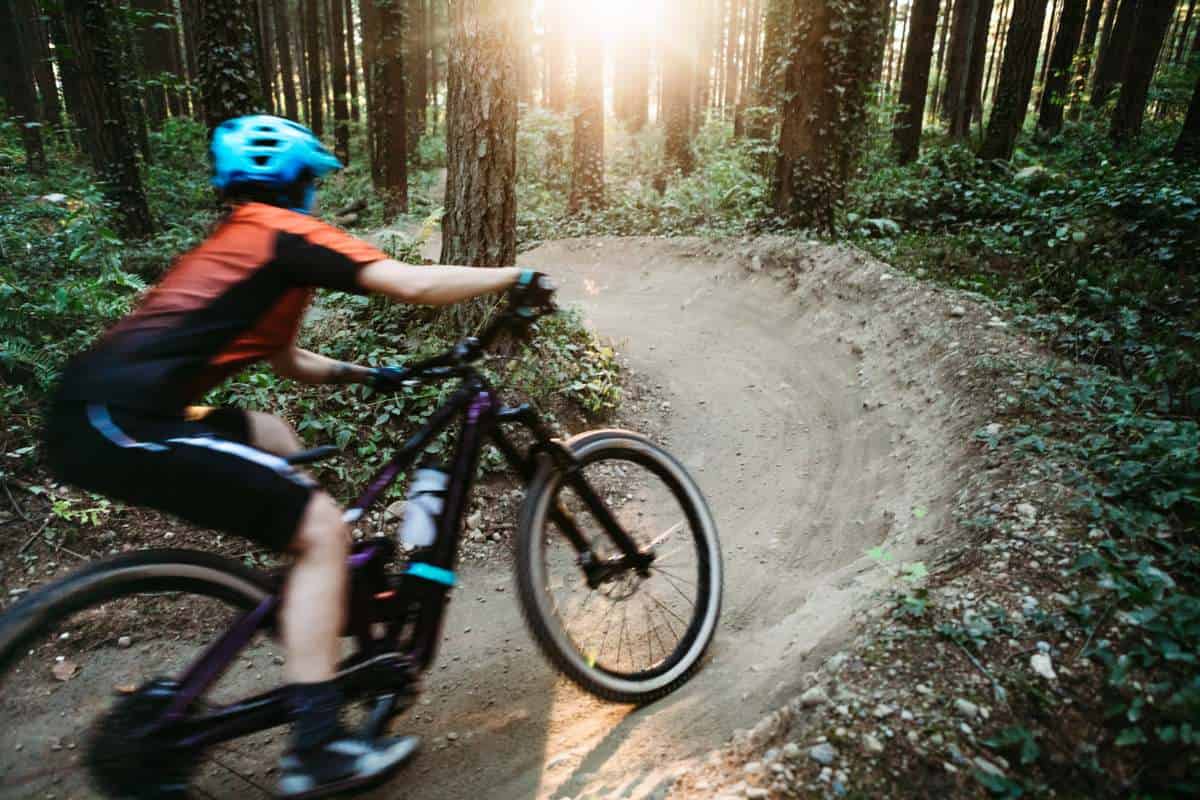 When buying an electric mountain bike, there are several factors to consider. Motor power and battery capacity are two of the most important features to look for. The motor should be powerful enough to provide a smooth ride on challenging terrain, while the battery should have plenty of range for your intended use.
Also, choose a frame material and geometry that fits your riding style and preferences.. Aluminium frames tend to be lightweight yet durable, while carbon fibre is lighter but more expensive. Geometry refers to the shape of the frame and how it affects handling characteristics such as stability or manoeuvrability.
Brakes, gears, and other components also play an important role in choosing an e-mountain bike. Look for disc brakes with good stopping power; they're usually found on higher-end models but can be worth the extra cost if you plan on tackling steep descents or technical trails.
Gears should offer plenty of options so you can find one that works best for different types of terrain; some bikes come with dual chainrings which give you even more flexibility when shifting between gears quickly or climbing hills efficiently.
Other components like suspension forks or dropper posts may not be necessary depending on your riding style but can make a big difference with comfort and control when navigating rough trails at speed
Best Brands for e Mountain Bikes
The Specialized Turbo Levo SL Comp Carbon 29er 2023 is a top-of-the-line e-mountain bike that offers an unparalleled riding experience. It has a lightweight carbon frame, powerful motor, and long range battery to help you conquer the toughest trails with ease.
The Specialized Turbo Levo SL Comp Carbon 29er 2023 comes with a powerful Specialized Turbo Full Power System 2.2 motor which provides a lot of torque for climbing steep hills or tackling technical terrain. This motor is incredibly responsive and can provide assistance up to 25 kmh (15MPH).
The lightweight frame of the Specialized Turbo Levo SL Comp Carbon 29er 2023 is a FACT 11m full carbon fibre unit which helps keep the overall weight down while still providing plenty of stiffness and strength.
Additionally, it features internal cable routing for clean lines and improved aerodynamics as well as SWAT door integration so you can store your essentials on board without having to carry them in your backpack.
To power the motor, this e-bike uses a 700Wh integrated battery pack that'll give you enough juice for even the longest rides.
With this setup, you'll be able to ride up to 200KM (125 miles) on one charge depending on how much assistance you use along the way.
The Specialized Turbo Levo SL Comp Carbon 29er 2023 also comes with high quality components such as SRAM GX Eagle 12 speed drivetrain, Fox Float 36 Rhythm 29 forks, SRAM Code RS brakeset and a high quality wheelset wrapped in Butcher and Eliminator tyres for maximum grip in all conditions.
If you're looking for an e-mountain bike that offers superior performance both uphill, and downhill, then look no further than the Specialized Turbo Levo SL Comp Carbon 29er 2023 – it's sure to take your riding experience to new heights!
The Trek Powerfly 5 2023 Electric Mountain Bike is a great choice for those looking to take their outdoor adventures to the next level.
With its powerful motor and long-lasting battery, this electric mountain bike can help you tackle even the toughest trails with ease.
The bike also includes RockShox Recon Silver suspension fork, Shimano Deore 10-speed drivetrain, Shimano 4-piston hydraulic disc brakes, Bontrager Kovee Comp wheelset, and Bontrager tyres for added traction on rough trails.
Here are some of the pros and cons of owning this model:
Pros:
The Trek Powerfly 5 2023 Electric Mountain Bike includes a Bosch Performance CX 250W motor that provides plenty of power for tackling tough terrain.
This motor has been designed to provide smooth acceleration while still providing enough torque to get up steep hills without much effort.
The 625Wh battery on this model will last you up to 70 miles on a single charge, so you don't have to worry about running out of juice during your ride.
Plus, it's easy to recharge when needed – just plug it into any standard outlet and let it do its thing!
Despite being an electric mountain bike, the frame on the Trek Powerfly 5 2023 is surprisingly lightweight at only 28 pounds (12KG).
This makes it easier for riders who may not be as strong or experienced in cycling as others, allowing them more control over their rides.
Cons:
As with most high-end electric bikes, the price tag on the Trek Powerfly 5 2023 is quite hefty – £3,950.
While there are cheaper models available on the market today, they usually lack features like suspension or powerful motors that make riding off-road much smoother and safer than traditional bicycles alone could provide.
Another downside of owning an electric mountain bike is that range options are limited compared to other types of eBikes due to weight restrictions imposed by certain trails or parks where these vehicles aren't allowed.
Therefore, if you plan on taking your bike off road often, then keep in mind that range might be limited depending upon where you go riding!
The Marin Alpine Trail E2 is an e-mountain bike that's been gaining popularity among outdoor enthusiasts. It offers a great combination of power, agility, and speed for those looking to explore the outdoors in style.
The Marin Alpine Trail E2 comes with a powerful Bosch Performance CX motor system that provides up to 250 watts of power and 75Nm of torque. This allows riders to tackle steep hills with ease while also providing plenty of acceleration when needed.
The battery pack is removable and can be charged on or off the bike, giving you more flexibility regarding charging options.
The 27.5″ wheels on the Marin Alpine Trail E2 provide excellent manoeuvrability and control over uneven terrain. The suspension fork helps absorb bumps in the trail for a smoother ride experience while still maintaining good traction on loose surfaces like gravel or sand.
Also, the frame geometry gives riders an aggressive riding position that allows them to attack corners with confidence while still being comfortable enough for long rides out on the trails.
Thanks to its powerful motor system and lightweight aluminium frame, the Marin Alpine Trail E2 can reach speeds up to 25MPH (40 KMH). This makes it perfect for tackling technical sections quickly as well as getting around town faster than ever before!
The Shimano Deore 10-speed drivetrain provides smooth shifting between gears so you can always find just the right amount of power when you need it most.
Overall, the Marin Alpine Trail E2 is an excellent choice for anyone looking for an e-mountain bike that offers both performance and versatility at a reasonable price point!
With its powerful motor system, agile handling characteristics, and fast top speed capabilities – this bike will have no problem taking your outdoor adventures further than ever before!
The Canyon Spectral:ON CF 7.0 is an electric mountain bike that offers a great balance of power and agility for the adventurous rider.
With its lightweight carbon frame, powerful Shimano Steps E8000 motor, and 27.5-inch wheels, it's perfect for tackling tough terrain with ease. The Canyon Spectral:ON CF 7.0 has plenty of power to tackle any trail you throw at it thanks to its 250W Shimano Steps E8000 motor and 630Wh battery pack.
It can reach speeds up to 25 kmh (15MPH) on flat ground, making it ideal for long rides in the mountains or off-road trails.
The bike also features a RockShox Recon RL fork with 130mm travel as well as SRAM GX Eagle 1×12 drivetrain for smooth shifting performance over rough terrain.
The Canyon Spectral:ON CF 7.0 is built to last with its high-quality components and sturdy aluminium frame construction which provides excellent durability while still keeping the weight down to just 19KG (42LBS).
Additionally, all components are protected from dust and water by IP67-rated seals, so you don't have to worry about them getting damaged in wet conditions or when riding through mud puddles!
Controls & Features:
This eMTB comes with an LCD panel that allows you to easily adjust settings such as speed limiters or choose between different levels of assistance depending on your needs at any given time during your ride – this makes it easy to customise your experience according to what type of terrain you're tackling!
You can also connect the bike wirelessly via Bluetooth using either Android or iOS devices so that you can watch important data such as battery life, distance travelled etc., directly from your smartphone without having to stop mid-ride!
Price & Value For Money:
Although priced slightly higher than other models in its class, due mainly because of its advanced technology features such as the LCD panel and wireless connectivity options mentioned above; overall, this model represents good value for money considering how much performance it offers compared against similarly priced competitors – plus there's always the option of financing if needed too!
Accessories for e Mountain Bikes
Helmets and Protective Gear:
Wearing a helmet is essential for electric mountain biking, as it provides protection from head injuries in the event of an accident. In addition to helmets, riders should also consider wearing other protective gear such as elbow and knee pads, gloves, and eye protection. These items can help reduce the risk of injury while riding on rough terrain or at high speeds.
Lights, Locks, and Panniers:
Lights are important for visibility when riding in low-light conditions or at night. A good quality lock is also necessary to protect your bike from theft when you're not around. Panniers provide extra storage space for carrying supplies like food and water during long rides.
Every rider should have a basic toolkit with them that includes items like tire levers, wrenches, hex keys, spare tubes, and patch kits. This will allow for quick repairs if needed while out on the trails. Additionally, having some maintenance supplies such as lubricants will help keep your bike running smoothly over time.
7 . Where to Ride an e Mountain Bike a . Local Trails b . Parks c . Off-Road Areas
Local Trails
Riding an electric mountain bike on local trails is a great way to explore the outdoors. Local trails offer a variety of terrain and can be used for leisurely rides or more challenging adventures. When riding on local trails, it's important to stay aware of your surroundings and obey all trail regulations. Make sure you have the right gear, such as a helmet and protective clothing, before setting out.
Parks
Electric mountain bikes are also perfect for exploring parks. Parks often have well-maintained paths that are suitable for riders of all skill levels. Before heading out, make sure you check any park regulations regarding e-bikes so that you don't get fined or banned from the area.
It's also important to keep in mind that some parks may not allow motorised vehicles at all, so always double check before planning your ride.
Off-Road Areas
For those looking for more adventurous rides, off-road areas provide plenty of opportunities to explore with an electric mountain bike. Off-road areas typically feature rougher terrain than what is found in parks or on local trails, but can still be navigated safely with proper preparation and equipment.
It's important to wear appropriate safety gear when riding off-road and to never venture too far away from help should something go wrong during your ride.
FAQs in Relation to What Are the Best E Mountain Bikes
What is the best mountain bike electric?
The best mountain bike electric is the Specialized Turbo Levo. It offers a powerful motor, long-lasting battery life, and intuitive controls that make it easy to use on any terrain. Its frame is lightweight, yet strong enough to handle even the toughest trails.
With its excellent suspension system and high torque output, you can tackle steep climbs with ease while enjoying a smooth ride down the other side. The Turbo Levo also comes with a range of accessories for customising your ride experience further. This e-bike has everything you need for an exciting outdoor adventure.
1. Pedal Assist (PAS) eBikes:
These are the most common type of electric bike and feature a motor that provides assistance to the rider when pedalling. The level of assistance can be adjusted depending on the terrain or activity, making them suitable for leisurely rides as well as more strenuous activities such as mountain biking.
2. Throttle Controlled eBikes:
These bikes have a throttle control which allows riders to simply twist and go without having to pedal at all, making them ideal for those who want an easy ride with minimal effort.
3. Hub Motor eBikes:
This type of electric bike has its motor built into the wheel hub, providing power directly to the wheel rather than through a chain drive system like other types of electric bikes do. This makes it easier to maintain and also offers greater torque, allowing riders to tackle steeper hills with ease.
What are the best-selling eBikes?
Electric bikes (eBikes) are becoming increasingly popular for outdoor adventures, offering an efficient and eco-friendly way to explore the outdoors. The best selling eBikes vary depending on the type of terrain you plan to ride and your budget. For mountain biking, full suspension models with powerful motors provide a smooth ride over rough terrain.
Road riders may prefer lightweight electric road bikes that offer good acceleration and range while still being easy to transport. Commuters often choose folding eBikes for their convenience when travelling or storing in small spaces.
Finally, recreational riders might opt for cruiser-style eBikes with comfortable saddles and upright handlebars that make leisurely rides more enjoyable. No matter your needs, there's an eBike to suit you.
Are eBikes good for mountain biking?
Yes, eBikes can be a great option for mountain biking. They offer the same thrill and challenge of traditional mountain biking with an added boost of power that can help riders tackle tougher terrain or longer rides. With their electric motors, they're also much more efficient than regular bikes, allowing riders to cover greater distances in less time.
However, it's important to note that eBikes have different regulations depending on where you live, so make sure to check your local laws before riding one.
How far can you ride an ebike?
The range of an ebike depends on various factors such as the battery capacity, the efficiency of the motor, the terrain, the rider's weight, and the level of assist selected. On average, an ebike with a 400Wh battery can travel around 40-60 miles on a single charge.
However, this can vary greatly depending on the factors mentioned above and it's always a good idea to check the manufacturer's specifications for a more accurate estimate of the range for a specific ebike model.
Are electric mountain bikes worth it?
Whether an electric mountain bike (e-MTB) is worth it or not depends on the individual's needs and preferences. Some of the benefits of e-MTBs are:
They allow riders to tackle steeper and more technical terrain than they would be able to with a traditional mountain bike.
They can make longer rides more enjoyable and less tiring by providing assistance on climbs and descents.
They can make mountain biking more accessible to a wider range of people, including those with disabilities or health conditions that make it difficult to ride a traditional mountain bike.
However, e-MTBs are generally more expensive than traditional mountain bikes and can be heavier, which can affect handling and manoeuvrability. Also, the battery and motor components can be vulnerable to damage from rough riding conditions.
So, whether an e-MTB is worth it or not is a personal decision that should be based on individual needs, preferences, and priorities.
What is the fastest MTB ebike?
The speed capabilities of an eMTB depend largely on its battery capacity, motor wattage, gearing system, rider weight, trail conditions, etc., but generally speaking they can reach speeds up to 25MPH (40 kmh).
Some high-end models may be able to go even faster than this depending on the factors mentioned above.
It should also be noted that many countries have laws limiting the maximum speed at which electric bicycles can travel so it is important to check your local regulations before trying any extreme speeds with your ebike!
Are electric mountain bikes good for trail riding?
Yes, electric mountain bikes (e-MTBs) can be good for trail riding, as they provide riders with the ability to tackle more challenging terrain and tackle longer rides with less fatigue. This can make for a more enjoyable and less physically demanding trail riding experience.
However, it's important to note that some trail riding communities and park areas may have restrictions on using e-MTBs, so it's always a good idea to check the local regulations before using one. Additionally, e-MTBs can be heavier and have more complex components than traditional mountain bikes, which can affect handling and manoeuvrability on technical trails.
Ultimately, the suitability of an e-MTB for trail riding will depend on the individual rider's preferences, riding style, and the type of trails they plan to ride on.
Conclusion
When you started reading 'What are the best e mountain bikes?', you can see how e-mountain bikes offer a great way to enjoy the outdoors and explore new trails. With their powerful motors and efficient designs, they can help you tackle any terrain with ease.
When choosing an e mountain bike, it's important to consider your needs and budget before making a purchase.
There are many excellent brands available that offer quality models at different price points. Don't forget to add accessories like lights, racks or bags for extra convenience when riding your e mountain bike.
With the best e mountain bikes on the market today, you'll be ready for any outdoor adventure.